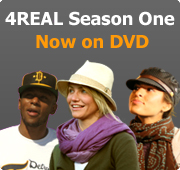 Run for one Planet
(0 Members)

Emily B


Program Summary


Matt Hill and Stephanie Tait are two Canadians from British Columbia who are running 11,000 miles across North America to inspire environmental action. This is what they have to say:
Matt Hill and Stephanie Tait are two Canadians running 11,000 miles across North America to inspire environmental action. This what they have to say: Matt and Stephanie became each other's most spectacular partners in crime in the spring of 2006. We are two people who seek to live our best lives by standing in the service of something larger than ourselves. It was this, plus our love of running, which quickly solidified our love for each other.

On our runs, we found ourselves getting into deep discussions about the state of our environment. We wondered – what will the world look like for the children who will inherit the Earth?

We believe in the power of the individual to help change the world. So we started by taking environmental action in our own lives, by changing certain aspects of our lifestyle and purchasing more environmentally friendly products.

The challenge we soon ran up against was these lifestyle changes and environmentally friendly products weren't mainstream. They were available, just harder to find.

In the end, had we not persisted, it would have been easier to continue with our old habits and product choices than to take environmental action and make positive change.

We realized more people must be in similar positions as we were – wanting to take action for the environment, but not knowing what practical steps to take because this information is not mainstream.

So we decided to step up to the plate for our environment, using our abundance of energy and love of running, to empower as many North Americans as possible on how their actions can make a huge difference for the planet, not just individually, but as a whole continent, 333 million people strong.

And so the Run for One Planet was born on Sunday, December 9th 2006, while on one of our favorite trails here in Vancouver. We figured that with the right training and a lot of heart, we could go up from our current maximum of 12 miles, and run 1 marathon per day, for one year, around our home continent of North America.

We choose North America because we believe we had to help clean up our own backyard first in order to inspire the rest of the world to do the same.
It is our vision that the daily action of us running for one year will inspire other North Americans to take action for the environment in their own lives, and ultimately help make North America be a world leader against Global Warming.

We look forward to meeting you on the road and building the Run for One Planet community.

For more, visit their web site and follow their route at : http://www.runforoneplanet.com/default.aspx



Program Details


Take a look at their video, read their blog, check out their route and take environmental action with them. They have a list of 365 steps to a healthier planet, on small step for every day of the year. They are running marathons every day because they care so much about the planet. What are you doing?