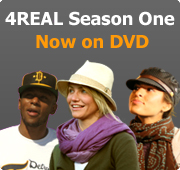 About 4REAL Flow
A revolutionary donation tool for individuals
4REAL Flow is an easy-to-use tool to raise money for your favorite cause without spending any of your own.
How does it work?
4REAL Flow generates valuable offers and deals from businesses. By accepting any of the offers, money flows to your favorite cause. Also, with 4REAL Flow you can recommend friends and businesses to other members and search their recommendations. Searches also bring up any relevant offers providing more opportunities to flow money to your cause.
How do I get started?
4REAL Flow is now in
Facebook
. You can also use 4REAL Flow inside 4REAL.com.
Sign up and become a member of 4REAL.com and automatically receive your free 4REAL Flow account.


Select a cause you would like to raise funds for. (You can change your cause at any time.)


Look over the many offers from businesses. Offers include sponsorship, coupons, lead generation, surveys and polls.


Select offers. 100% of the funds from the offers you see will go to your cause.


Nice work! You've just flowed money to your cause without spending any of your own!


Recommend friends and businesses to other 4REAL members.
My favorite cause is not in the system. What can I do?
Any registered charity/non-profit can join 4REAL Flow. If your favorite cause is not currently in the system you can email them a description of 4REAL Flow with the following link:
or
You can also click here, enter their information and we'll reach out to them for you.
What's the easiest way for me to get other people to raise funds for my cause?
Go to your cause's 4REAL profile page by following the link from your network on your profile page or by typing its name in the Search box at the top right of 4REAL.com.


Copy your cause's Recruitment Link, which can be found in its profile section.


Email your friends and family the Recruitment Link. This special link will take them to a sign-up page where your cause will already be selected for them.
What if I am already a 4REAL.com member?
All current 4REAL members are automatically signed up for 4REAL Flow. Just go to the 4REAL Flow tab on your profile to select your cause and get started.
I have more questions!
Feel free to contact us if you need more help.