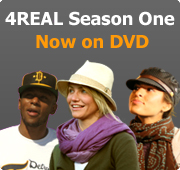 Mars Candy Kills!!
(3 Members)
Mars Candy Kills!!

Mars recently funded a deadly experiment on rats to determine the effects of chocolate ingredients on their blood vessels. Experimenters force-fed the rats by shoving plastic tubes down their throats and then cut open the rats' legs to expose an artery, which was clamped shut to block blood flow. After the experiment, the animals were killed. Mars has also funded cruel experiments in which mice were fed a candy ingredient and forced to swim in a...



Black People Need To Unite
(1 Members)

solo
Black People Need To Unite

On the track "Hardcore",K'naan has a verse that goes something like,What he is saying comes from being annoyed & he will not stop saying what he is saying untill he fills the void,well thats how I feel & thats why until the people at 4REAL kick me out,I will not stop telling you what is part of my people's day to day struggle's, struggle's that other "humans" are responsible of putting my people in . Also it's like in one of his other verse's,...

Program Link
Save Program
Rate this Program
(2 Ratings)
Views: 54


Animals Matter To Me
(5 Members)
Animals Matter To Me

(1)Around 60 billion farm animals are used each year globally to produce meat, milk and eggs. The majority are raised in industrial farming systems where their welfare needs are not met.
(2)Globally, there are some 600 million dogs, and a similar number of cats, of which an estimated 80% are stray or unwanted.
(3)The illegal and often inhumane trade in wildlife and wildlife parts is a soaring black market worth $10 billion a year, e...



Donate to Help Quake Victims in China
(3 Members)

Sharline
Donate to Help Quake Victims in China

A 7.9 earthquake leveled parts of Western China on May 12 in Sichuan province. The death toll is estimated to reach 50,000.

What has been particularly heart-wrenching about following the news in China is learning that many of the deaths involved children. Since the quake struck during the day, entire schools collapsed, trapping children inside, crushing them, or leaving them in the dark, pinned under concrete waiting to, hoping to be r...



Help China

A 7.9 magnitude earthquake hit China's Sichuan Province on Monday afternoon, reportedly killing more than 8,500 people. The death toll steadily increased throughout the evening, raising concerns that the number could go far higher. Tremors shook buildings for hundreds of miles and were felt as far away as Vietnam and Thailand, according to interviews and reports in China's state media. Left, a collapsed school in Dujiangyan.




Why is Israel that special?

solo
Why is Israel that special?

Israel just celebrated their 60 yrs of independance,which by the way is a good thing since everybody has the right to prosper without any fear.Israel was mainly assisted by Britain & France during it's creation 60 yrs ago ,the same people in 1948 who were oppressing Africans were also giving birth to Israel & the protection of Jewish people.

The Jewish people run from the Romans in Jerusalem back in the day,they lost their Templ...

Program Link
Save Program
Rate this Program
(0 Ratings)
Views: 27


Messages from Water
(7 Members)

Celeste
Messages from Water

Visionary researcher Masaru Emoto has found factual evidence of how human thoughts, words, ideas and music, affect the molecular structure of water. By taping words of positive and negative energy on distilled water bottles and freezing them, Mr. Emoto shares photos of what the water crystals look like after the fact. It's unbelievable how taping the words "thank you" makes crystal pretty and perfectly symmetrical while the words "I will kill...



That Pale Blue Dot.
(8 Members)

The Voice
That Pale Blue Dot.

Watch the video.

Let's protect our Earth. After all, it's the only one we've got.
I'm not only talking about protecting the enviroment itself... the people on this planet are just as important.

I believe that as human beings we have a moral and conscience right to protect the rights and freedoms of one another, no matter which imaginary line seperates us.

Our creator has left the world in our hands. L...

Program Link
Save Program
Rate this Program
(3 Ratings)
Views: 30


Help the People of Myanmar/Burma - 100K Dead
(1 Members)

Sharline
Help the People of Myanmar/Burma - 100K Dead

Latest estimates suggest that up to 116,000 people died in Myanmar/Burma when a tidal surge swept across the Irrawaddy delta from ocean water whipped up by Cyclone Nargis last week.

Flooded areas are covered with floating bodies.

An estimated 1.7 million people are now homeless.

But what's happening in Myanmar/Burma is not just a natural disaster. It's also a result of bad leadership. Burma's military junta faile...




Emily B
You Vote Every Day

Program Link
Save Program
Rate this Program
(0 Ratings)
Views: 5